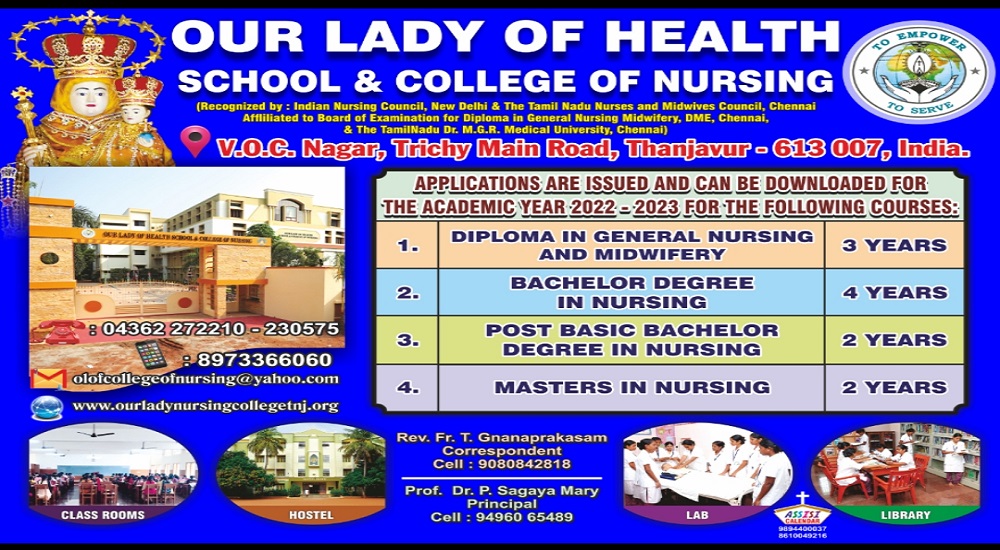 Welcome To Our Lady of Health School & College of Nursing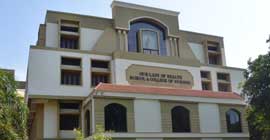 Year Of Establishment
The diocese of Tanjore society was started in 1958 after the creation of the Diocese of Thanjavur in 1953. The society had started hospitals, dispensaries, colleges and orphanages in order to cater to the needs of the sick and needy. The society started the Our Lady of Health hospital in 1961 at Thanjavur. Our Lady of Health school of nursing was started in the year 2007 and college of nursing was started in the year 2008.
Vision
The school and college lay stress on high tech health care delivery system by training health care professionals with desired knowledge, skill and attitude. The institution also believes in translating the latest trends in nursing education technology and practice to meet the needs of the society as an expression of Christian concern for the sick and the suffering.
Mission
Our Lady of health school and college of nursing focuses on the empowerment of the student nurses professionally, ethically, spiritually, morally and culturally irrespective of caste, creed and color. Our college prefers candidates from low socio economic status whose self development will help to improve the status of their families and society. The student nurses are trained to serve the sick who need promotive, preventive, curative and palliative aspects of health care.
Philosophy
The faculty of Our Lady of Health College of Nursing believes that:-

> Nursing Contributes to the health services in a vital and significant way through its health care delivery system .It recognizes national health goals and is committed to participate in the implementation of National Health policies and programmes. It aims at identifying health needs of the people, planning and providing quality care in collaboration with other health professionals and community groups.
> Nursing deals with preventive, promotive and curative services to the people across their lifespan in a wide variety of health care settings.
> Comprehensive and holistic component of the Nursing care is based on nursing theories on Nursing Practices.
> Professional education in Nursing is a continuous process based on concepts of nursing practice which is promoted by providing education to the nurses at various levels.
> Developing critical thinking skills, competencies and standards required for practices of professional Nursing and Midwifery among nursing students to provide qualitative care to the Clients.
> Providing adequate facilities which will facilitate creative thinking and self directed learning for the Students and faculty.
> Preparing efficient Nurse Leaders, Educators & Practitioners through higher education helps in promoting quality in Nursing.
> Promoting / developing a scientific research attitude will help in meeting the issues and challenges confronting the nursing profession today.
> Promotes personal & professional growth of students & faculty.
> The teachers have the responsibility to be role models and create learning environment that enables students to acquire an inquiry drive, self directed learning and foster an attitude of lifelong learning.
> Under graduate nursing education programme, preparing its students to become exemplary citizens by adhering to code of ethics and professional conduct at all times in fulfilling personal, social and professional obligations so as to respond to national aspirations.
Objectives
To Prepare

> Nurse practitioners able to practice at various settings by applying Nursing process.
> Nurse Educators to demonstrate skill in teaching /Learning by using various modern Educational Technologies.
> Nurse administrators and leaders for effective administration and management, at various professional settings through efficient administrative principles and practices.
> Nurse Researchers able to conduct Independent research by developing creative thinking in applying research methodology.
> Nurse professionals by encouraging career development through staff development Programmes.
> Appreciate social and ethical obligations to society.
College Emblem

The emblem symbolizes that the hands of our student nurses empower the knowledge of light in the health care by fading away the darkness in the world and serve globally through holistic care with the guidance of the Holy Spirit.